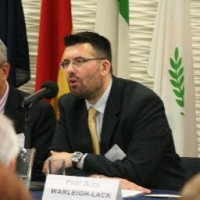 Position
Associate Research Fellow
Biographical Statement
Alex Warleigh-Lack was an Associate Research Fellow at UNU-CRIS until the end of December 2016.
Alex Warleigh-Lack is Professor of Politics and International Relations at Brunel University, having previously taught at the universities of Reading, Queen's Belfast and Limerick.
He was elected to the UK Academy of Social Science in 2007, and was Chair of UACES (the University Association for Contemporary European Studies), which is the world's largest EU studies association, between September 2006 and September 2009.
Together with Michelle Cini and Tanja Börzel, he was a Founding Editor of the UACES/Routledge book series, Contemporary European Studies, and he sits on the editorial boards of European Political Science and Politique Européenne.
Before entering academia, he was Chief of Staff to the Chair of the European Parliament Committee on the Environment, Consumer Protection and Public Health.
Alex's main research interests are in normative approaches to the reform of the European Union from both democratic and ecological perspectives, and comparative regional integration. A specialist in EU studies, he also has particular interests in regional integration in North America and South-East Asia. He wrote and co-edited a book (with Prof Ben Rosamond, University of Warwick and Dr Nick Robinson, University of Leeds), entitled New Regionalism and the European Union- Dialogues, Comparisons and New Research Directions (to be published by Routledge). He was also a member of the UNU-CRIS Jean Monnet funded research group.