Developing Indicators for Regional Economic Integration and Cooperation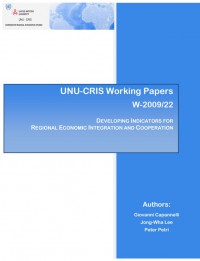 Publisher:
UNU Institute on Comparative Regional Integration Studies
Copyright Holder:
UNU Institute on Comparative Regional Integration Studies
Abstract:
We develop indicators to measure the degree of economic integration and cooperation among East Asian economies and compare these with similar measures for other regions. Our indicators cover regional integration in trade, investment, financial assets, and people.to.people exchange. We also analyze measures of regional cooperation such as the density of free trade agreements and official policy dialogues. We find that in various Asian groupings, and especially in a group of 16 integrating Asian economies, interdependence in trade, direct investment, financial flows, and other forms of economic and social exchange has increased significantly over time, and now approaches that in the European Union. Nonetheless, Asia's official cooperation remains weak and formal regional institutions remain relatively underdeveloped. To provide insight into the causes of this discrepancy, we also develop quantitative measures of political and cultural similarity of nations, and find that Asian countries have relatively low levels of political and cultural proximity compared to regions such as Europe. The diversity of political interests and cultural values may have hindered more intense cooperation among Asian economies in the past. But if regional economic and social interactions continue to grow, requirements for joint decision-making are also likely to expand, leading to stronger frameworks of official cooperation.
Keywords:
Regional integration, economic cooperation, East Asia