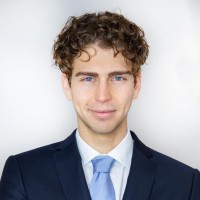 Biographical Statement
Francesco Vecchi is a communication intern at UNU-CRIS who holds a Master's Degree in Euroamerican Languages, Literature, and Philology from Pisa University. He studied three major European literary traditions (English, French, and Italian) with a theoretical-comparative approach and a specific focus on the 19th-20th Century. Remarkably, he has always been interested in seeing how international contacts are paramount for the definition of European culture, philosophy, and politics This passion was embodied in his Master's dissertation on the European Grotesque contemporary tradition, whose greatest part was realised during his three-month exchange at the École Normale Supérieure de Lyon in spring 2022. 
Francesco is now completing a second-level Master's (Licence Diploma) in Modern Literature and Philology, Linguistics at the Scuola Normale Superiore in Pisa, Italy's most prestigious excellence school. Moreover, he was recently awarded the "America Prize" by the Fondazione Italia-USA, which offers each year's best graduates free access to the foundation Master's in Leadership for International Relations and Made in Italy. As witnessed by his academic career, he has always tried to balance his passion for humanities and his strong interest in politics, economics, and sociocultural issues.
His two-fold profile found fertile ground in Cuora Consulting, a student-led non-profit association providing consulting services to socially and environmentally conscious start-ups, SMEs, and NGOs. There, he worked as an associate consultant while building Cuora Insights, the internal research magazine focused on sustainability, politics, economic development, digital innovation, and education. In this role, he managed the editorial plan; edited and fact-checked several articles; and wrote two on COP27 and Meritocracy. Previously, he nourished his passion for sustainability and politics as a climate change and political activist, as well as with other articles published in the online magazine "L'Eclisse".
Under the supervision of Andrew Dunn, Francesco will contribute to strengthening the voice of UNU-CRIS by publicising events, spreading the work of UNU-CRIS via different communication channels, editing articles, and performing policy-relevant research.