Globalization and the Threat of Marginalization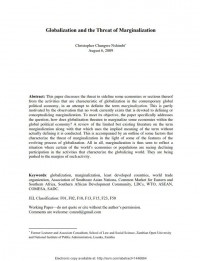 Publisher:
International Studies Association (ISA)
Abstract:
This paper discusses the threat to sideline some economies or sections thereof from the activities that are characteristic of globalization in the contemporary global political economy, in an attempt to definite the term marginalization. This is partly motivated by the observation that no work currently exists that is devoted to defining or conceptualizing marginalization. To meet its objective, the paper specifically addresses the question, how does globalization threaten to marginalize some economies within the global political economy? A review of the limited but existing literature on the term marginalization along with that which uses the implied meaning of the term without actually defining it is conducted. This is accompanied by an outline of some factors that characterize the threat of marginalization in the light of some of the features of the evolving process of  globalization. All in all, marginalization is thus seen to reflect a situation where certain of the world's economies or populations are seeing declining participation in the activities that characterize the globalizing world. They are being pushed to the margins of such activity.
Keywords:
Globalization, Marginalization, Least Developed Countries, World Trade, Organization, Association of Southeast Asian Nations, Common Market for Eastern, Southern Africa, Southern African Development Community, LDCs, WTO, ASEAN, COMESA, SADC
Other working papers by this author