Towards Establishing a Research Institute for Asian Integration Introducing European Experiences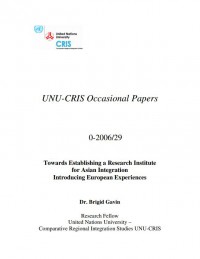 Collection:
UNU-CRIS Occasional Papers
Publisher:
UNU Institute on Comparative Regional Integration Studies
Abstract:
Over the past five years, there has been a big debate on how to further Asian integration. The time now seems ripe for political leaders to make concrete proposals to transform the policy debate into political reality. The process of deeper integration in East Asia needs to be anchored in intellectual debate. The establishment of a Research Institute for Asian Integration will provide intellectual inputs to assist further economic integration. The goal of academic research on Asian integration is to produce rigorous scientific research on the multiple dimensions of the integration process in a global context. Such research is vital for informed policy making at national, regional and global levels. It is also essential to promote informed public debate on the pros and cons of the regional integration process. There must be a strong link between scientific research and policy making. Policy makers need to receive timelyinformation that is presented in a clear and succinct manner. Therefore, scientific research must be 'translated' into policy reports for the policy advisers who make recommendations to policy makers.
Keywords:
Asia, integration, research, policy-making
Other working papers by this author