UN-EU Cooperation in Peace and Security in the 21st Century: Development of Structural Relationship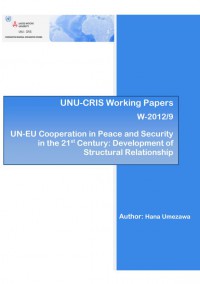 Publisher:
UNU Institute on Comparative Regional Integration Studies
Copyright Holder:
United Nations University
Abstract:
The purpose of this paper is to explore the development of UN-EU cooperation in peace and security and its present and prospective contribution to the maintenance of security in the 21st century. Both the UN and the EU have faced severe realities regarding their inability to solve the series of violent conflicts that erupted in the 1990s. While the UN worked hard to improve its own peace keeping capacity, it also started to seek cooperation with regional organisations. The EU has equally taken significant steps to develop itself into an autonomous crisis management body. The cooperation between the UN and the EU has been stimulated through these developments within both organisations. Significantly, the EU has recently obtained the enhanced status within the UN General Assembly, reflecting the UN and its member states' recognition of the EU's developing global role. The paper will attempt to draw a comprehensive picture of UN-EU cooperation, covering the legal, historical and structural aspects of the relationship. It will firstly examine in general terms the increased cooperation between the UN and regional organisations in the maintenance of peace and security in the post-Cold War era. It will also provide not only the legal basis of such cooperation but also a detailed description regarding the development of the UN-regional organisation cooperative mechanism. The paper then provides an overview of the emerging structural cooperation between the UN and the EU. Concluding remarks will focus on some of the assets and shortcomings of this cooperation.
Other working papers by this author