Understanding Regional Peace and Security: A Framework for Analysis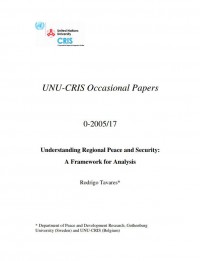 Collection:
UNU-CRIS Occasional Papers
Publisher:
UNU Institute on Comparative Regional Integration Studies
Abstract:
We live in a disarranged world. In a world population of 6.1 billion people, the richest 20 percent have 74 percent of the world income, while the poorest 20 percent only have 2 percent of it. In 2000, more than 1 billion people lived on less than 1 USD/day (poverty line) (Human Development Report, 2005). Coupled with this, wars are still a prevalent mechanism used by political actors to express discontent and attain strategic goals. In 2004, there were 30 ongoing armed conflicts in 22 locations (Harbom and Wallensteen, 2005). In contrast, some communities have managed to live within high levels of peace and security, as Scandinavia or Western Europe...
Other working papers by this author