Diana Potjomkina, UNU-CRIS PhD Fellow, Moderates Panel at the 'DCFTA Implementation: Partnerships, Push-backs and Potential' conference in Tbilisi, Georgia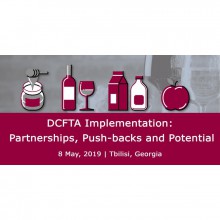 How can civil society's role in economic development be increased at the local level? Which tasks should be delegated to the civil society organizations and where are their limits?
These are the key questions being addressed during the 'Civil society engagement in economic development: good practices and lessons learned' panel, moderated by UNU-CRIS PhD Fellow Diana Potjomkina, taking place at the Deep and Comprehensive Free Trade Area (DCFTA) Implementation: Partnerships, Push-backs and Potential conference on Wednesday, May 8, in Tbilisi, Georgia.
The panel, which includes Tamta Tsotskhalashvili, Former Head of the European Integration Coordination Division at the Office of the State Minister of Georgia for European Integration, among other leading civil society figures, will look into current status quo of Georgian civil society organisations' capacities to work on economy related issues, and to assist both Georgian government and small and medium enterprises with the DCFTA implementation.
The conference will present results of the two-year project "Georgia on the European Way: Creation of Effective Model for DCFTA and SME Strategy Implementation", funded by the European Neighbourhood Instrument of the European Union and co-funded by Lithuanian Development Cooperation and Democracy Promotion Programme and the Slovak Official Development Assistance - SlovakAid.
Consult the full program here.