Legitimisation and Expressions of Identity and Attitude: A Discursve Approach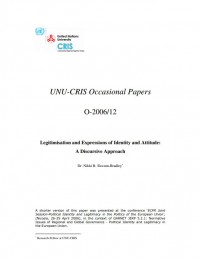 Collection:
UNU-CRIS Occasional Papers
Abstract:
This paper explores the nature of and relationship between 'identities' and 'legitimacy'. First, an analytical distinction is made between expressions of identity and expressions of attitudes about Europe and the European Union. A discussion of 'legitimacy' is provided that proposes the process of 'legitimisation' as the attribution of rights and duties to a given actor, in a specific context. Next, Positioning Theory is proposed as a theoretical and analytical framework for understanding processes of identity construction and legitimisation in discourse. To further illuminate these processes, empirical examples are provided, using the Positioning Triad as a tool to analyse discourse surrounding the Danish Euro referendum. Finally, implications for practice are discussed.
Other working papers by this author