Supporting Regional Integration - The Roadmap of Indicators and Tools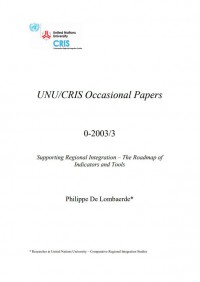 Collection:
UNU-CRIS Occasional Papers
Publisher:
UNU Institute on Comparative Regional Integration Studies
Abstract:
Regional integration (RI) occupies a prominent place in the Cotonou Agreement, bothas a means and as an end. Further and deeper RI is seen as an important vehicle forreaching higher levels of development for ACP countries and, therefore, as a relevantgoal of ACP-EU cooperation. This is in accordance with the new wave of regionalintegration initiatives since the beginning of the 90s and the (theoretical and political) ratification of RI as a valid policy option and development strategy in the globalisedeconomy...
Other working papers by this author