UNU-CRIS Lecture at Sint-Lodewijkscollege, Bruges
On Friday 1 October, UNU-CRIS delivered a lecture to 200 final year students at Sint-Lodewijkscollege in Bruges.
Andrew Dunn, Policy and Communications Officer at UNU-CRIS, introduced the beginnings and development of the United Nations and the UNU, before turning to UNU-CRIS, outlining how it works within the UN system and how it contributes towards the attainment of the Sustainable Development Goals (SDGs).
He spoke of UNU-CRIS' involvement in projects of local benefit, such as the SDG Monitor, as well as at higher levels of governance, such as the contribution towards two policy briefs for this year's Think20 Italy, which will feed into policy recommendations for the upcoming G20 to be held on 30-31 October 2021.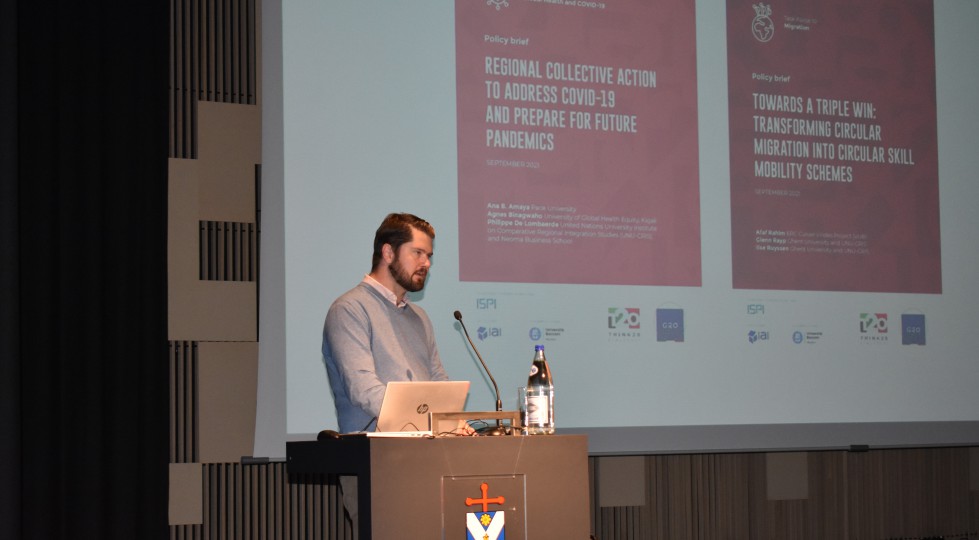 This introduction was followed by Els Bekaert, UNU-CRIS PhD Fellow, who discussed climate change and the different UN instruments and bodies designed to tackle the issue.
She further touched upon why the decarbonisation process is perceived as going slowly, and ended with a reminder that effective change will require major societal and economic transformation, a process which will require the input and buy-in of the students in the lecture hall, as they take their next steps into society.
This lecture is part of UNU-CRIS' ongoing commitment to sharing its expertise with local schools in Flanders, further spreading the work of the UN and UNU.