Summary: UNU-CRIS at CUNCR's "How To Assemble Parliamentary Assemblies"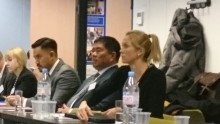 The Center for United Nations Constitutional Research (CUNCR), in partnership with Democracy Without Borders, organized the conference "How to Assemble Parliamentary Assemblies: Case Studies for Governments and NGOs' on November 27-28 in Brussels.
The event aimed to draw attention to the growing importance and prevalence of international parliamentary institutions (IPIs) as elements of potentially increased democratic features of the global order. The organizers aimed to gather top experts and representatives in this area to explore the opportunities for and challenges to IPIs, their similarities and differences, and to deepen the knowledge of their prospects in terms of enhancing citizens' influence in current processes of global governance. Among the IPI's focused on were the Pan-African Parliament, African Union and the Latin-American Parliament & Mercosur. Finally, the discussion also addressed the potential need and feasibility of creating parliamentary organs for inter-governmental organizations at the global or regional level (including the WTO and ASEAN).
From UNU-CRIS, Prof. Madeleine Hosli and Mrs. Reinhilde Bouckaert provided a presentation titled 'Experiences from the European Union'. The lecture encompassed a general overview of the European Union's institutional setting, the role of the European Parliament, EU Parliamentary Diplomacy and finally, insights gained from a case study on climate change debates in the EU's Parliamentary Assembly with the Mediterranean. The case study draws on insights from the project PADIRE.