UNU-CRIS at International Studies Association Conference (ISA) 2021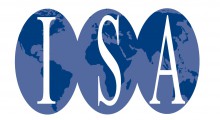 Held virtually between 31 March – 9 April 2021, the Annual International Studies Association (ISA) Conference themed 'Globalization, Regionalism and Nationalism: Contending Forces in World Politics' saw UNU-CRIS' contribution and representation across diverse sessions.
PhD Fellow Lukas Rabaey presented a paper, jointly written with Professorial Fellows Glenn Rayp and Samuel Standaert, during the session, 'WD22: Globalization, Regionalism, and the Institutional Design of (Regional) IGOs' in which Director Ad Interim, Philippe De Lombaerde acted as a discussant.
Associate Research Fellow, Ana B. Amaya, chaired the session 'TD42: The Politics of the Health Policy Process: From Global to Local' and shared insights during the session 'WD38: The Dynamism of International Organizations in Global Health.'
Associate Research Fellow, Timothy Shaw, co-organized a roundtable discussion on 'RE01: More/Less 'New Regionalisms', with the participation of Director Ad Interim, Philippe De Lombaerde, among others. Shaw also acted as discussant for the session 'RH12: IPE- International Political Economy and Trade in Contentious Times' and chaired the session 'FB14: Insights from/for the Global South.'
Associate Research Fellow, Frank Mattheis, shared insights during the sessions 'RG22: Globalization Projects of Regional Organizations' and 'TB25: Financing International Organizations: Resource Mobilization in the 21st Century.'
Gaspare Genna, Associate Research Fellow, participated in the sessions 'WE3Cut3: Climate Political Economy in the Americas: Domestic-International Efforts and Resistance to Mitigate and Adapt" and 'RF27: Conflict and Cooperation During the Era of COVID-19.'
Read more about ISA here.